1 Minute Media is proud to receive recognition as one of the highest rated video production companies in Australia. With technology being easily accessible today, people are spending more time on their tablets or smartphones. People love watching videos whether it's on YouTube or social media. This video craze makes videos a viable marketing tool for businesses to thrive in this saturated market. A promotional video is a business video created to promote services or products to prospective customers. An engaging promotional video can tell a story and brings the conversation to a personal level.
At 1 Minute Media, we are a leading corporate video production company. We've produced thousands of successful videos online to promote our client's products and services. Our talented team of videographers has worked with companies of all sizes and industries. We specialize in video production from brand videos to training videos to documentaries. Our industry experience and track record provide confidence to our customers that we will deliver top-tier videography with an amazing return on investment for your business.
We recently received a new 5-star rated review on Clutch. A sculpture design business wanted to promote its art project. We reviewed their script and filmed the client and their work. We guided them through the editing process of the promotional video. We ultimately delivered a promotional video that received great feedback and made the client very proud of.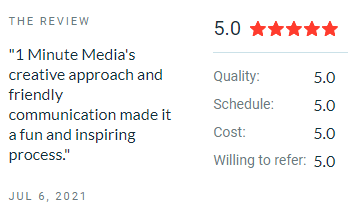 "Their turnaround times were excellent. They communicated weekly through Monday.com as well as via phone calls." – Founder, Words Circles Life
For context, Clutch is the leading B2B ratings and reviews platform for marketing, IT, and business solutions providers. Each month, over half a million buyers and sellers of services use the Clutch platform and the user base is growing over 50% a year. Clutch has been recognized by Inc Magazine as one of the 500 fastest-growing companies in the United States and has been listed as a top 50 startup by LinkedIn.
Aside from the wonderful feedback above, we're also featured on Clutch's sister site, The Manifest, a guide to B2B services and business news website. TM compiles and analyzes practical business wisdom for innovators, entrepreneurs, and small and mid-market businesses.
Get started on your video project today! Send us a message and we can start talking about how we can help elevate your business.