In the aftermath of the 2013 Australian Federal election, Kevin Rudd has been accused of doing damage to his own campaign by re-writing his campaign video scripts. Sometimes Kevin was scribbling changes moments before the cameras were set to roll.
Did Kevin's waffle diminish his re-election chances?
Many have accused Kevin of "waffling."
This is one of our main concerns for our clients at 1 Minute Media. When a business owner tries to write their own script they are often too close to the message to be able to see their potential customer's point of view. This often leads to a simple but common mistake: waffle.
 
If you had the choice to watch a marketing video right now, would you prefer to watch one that is 1 minute in length or 5 minutes?
As  online video marketing experts we ask our clients this question often. Our clients admit quite readily that they will often not even turn on a video that is 2 or 3 minutes. They are, however, quite happy to view a brief 1 minute video as an effective way to absorb marketing information about a company they are researching.
Why are TV ads 15, 30 or 45 seconds in length?
Consider the length and purpose of a standard TV ad. TV advertising is usually presented in 15, 30 or 45 second time frames. This has been the case for decades. It's the advertiser's task to make sure that the message is short, sharp, straight to the point and entertaining! Enter the online media age and somehow business owners have deduced that they can meander along with their message, as though magically people have increased their attention spans. In fact, it seems quite the opposite is true. In the information age we are being bombarded with more and more messages and so we are becoming much more selective about what we will turn our attention to.
The interests of your client can be summarised in one acronym: WIFM? What's in it for me? The second that you stop offering value or a benefit to your client they will simply switch off.
Leave script writing to the professional script writer
During the run up to the Federal Election Kevin Rudd's campaign manager, Bruce Hawker, said Kevin's re-writes strayed away from messages which offered value to his viewers. "Rudd would be on set for 10 minutes and be writing three scripts, instead of doing one ad well. His interference at all levels was chaotic."
It was never going to be an easy election campaign for the Rudd camp considering the ferocious onslaught of the Murdoch media. On the opening day of the campaign the Daily Telegraph shrieked "Kick this mob out." However, the social media platforms are emerging as the arena to level the playing field for politicians when confronted with old media biased. However, the rules of engagement and effectiveness still firmly apply.
Don't wreak havoc on your elevator pitch with waffle!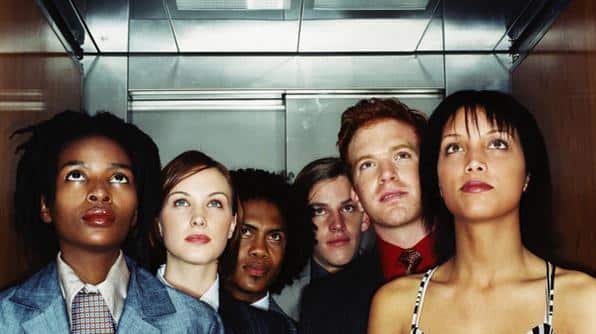 The purpose of your video and the area where Kevin's re-writes wreaked havoc for his election campaign is the delivery of a clear message. With viewers looking only at WIFM, your message should jump into the head of your viewer. Engagement means answering the questions that the viewer would be asking you in person. If you have ever watched Mad Men you may recall that they call this the "elevator pitch."
Your viewer's ability to absorb much more information than your elevator pitch has barely changed since 1950! To put it bluntly, your viewers are selfish with their time and they aren't that interested in you (unless you are Pink or Brad Pitt). The truth is they are only interested in what you can do for them.
At 1 Minute Media we specialise in punchy video scripts which deliver value to your clients. Instead of switching off they tend to share our carefully crafted videos, and look forward to your next instalment!
Stay on script and call us on 1300 905 205 to make your effective video marketing campaign happen now!